On March 21, 2020, I started tracking COVID – including daily figures. I took on this task for several reasons: I like the data, I didn't go anywhere for a while, or rather, so that I could discuss them sensibly.
Clear trends have emerged over the past seven months. "Waves", as some call them, are clearly visible in the diagrams.
In this reference book, I would like to present graphs based on my night tracking. No conclusions are made, no comments are given, no opinion is given. This is purely data for data. You have to draw your own conclusions, provide your own comments and form your own opinion.
Methodology
As already mentioned, the information used to develop these charts has been tracked and recorded NIGHT since March 21. All information used in this tracking program is taken from WorldOMeter.com, Johns Hopkins and several government websites. Although each of these sources of information undertakes to provide correct data, neither they nor I can guarantee the information.
Because one day is not a trend, these graphs use 14-day moving averages. The use of a 14-day average eliminates the extreme jumps and valleys that are present in the daily count, as well as the jumps found in the 7-day moving average. When this 14-day moving average is NOT used, the description of the chart indicates that another method is used.
The time period tracked in these graphs is slightly more than the seven-month period between March 21 and October 31.
The only comment I give is a description of what information the chart shows.
Shall we start? I hope you find this information interesting, if not valuable.
Daily new things
This is a daily case count, again based on a 14-day moving average.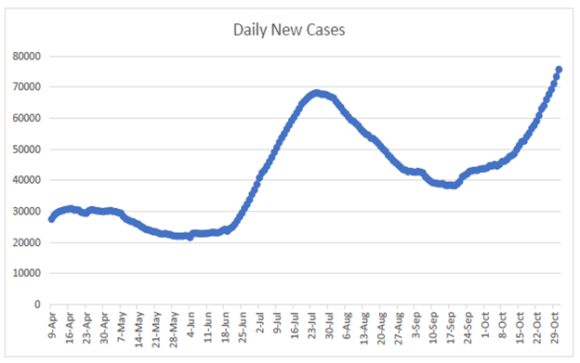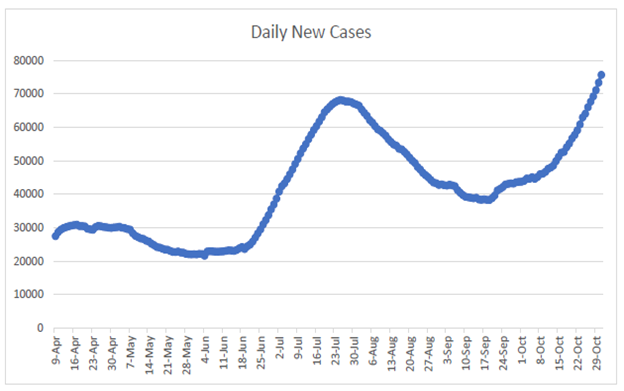 Daily deaths
The following daily death graphs use a 14-day moving average.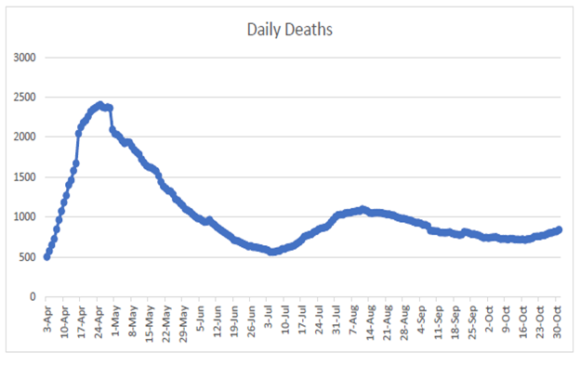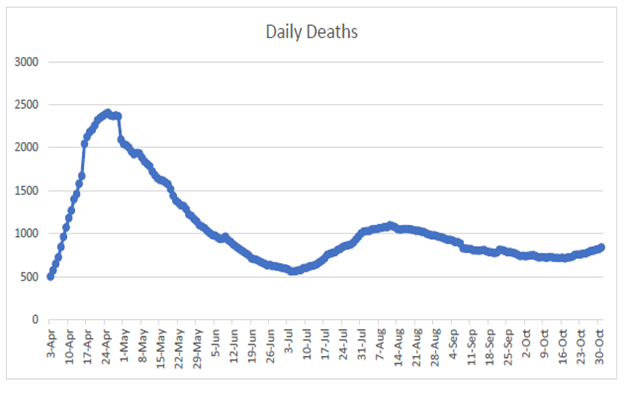 Daily mortality rate
This is a daily mortality schedule. The mortality rate presented in this chart is calculated by dividing the number of deaths on a given day by the number of new cases on that day. Although this is not an accurate indication of a constant mortality rate, as this chart uses a 14-day moving average of deaths and deaths, it does represent some actual mortality.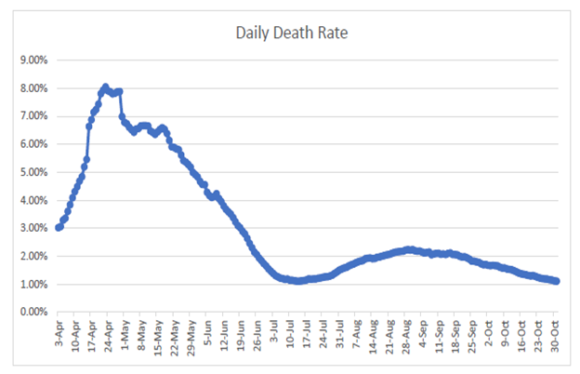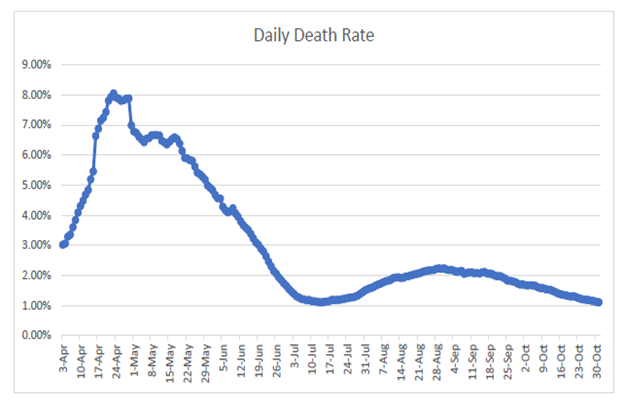 Recovery
The following is a 14-day average recovery period.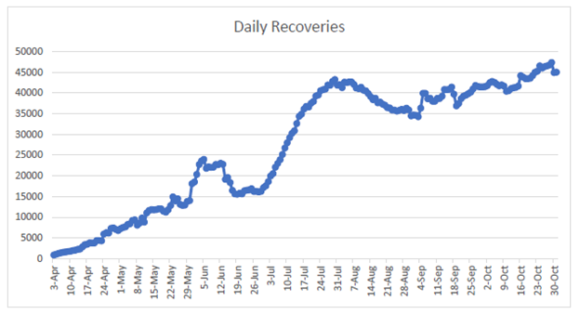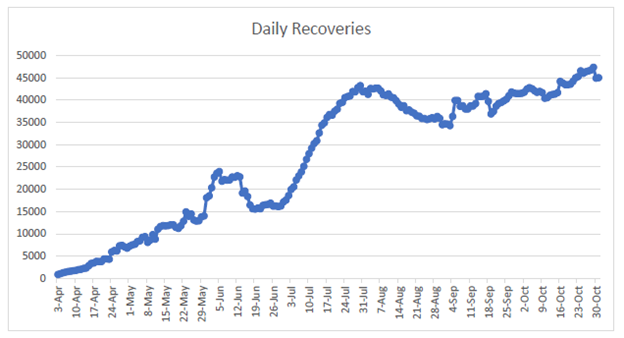 New cases compared to fines
The following graph compares two data: 1) daily new cases; and 2) daily recovery. Daily new cases are represented by a blue line and an orange line that tracks recovery. Again, 14-day moving averages are used here.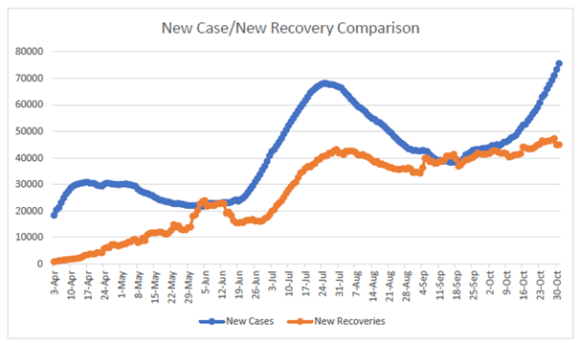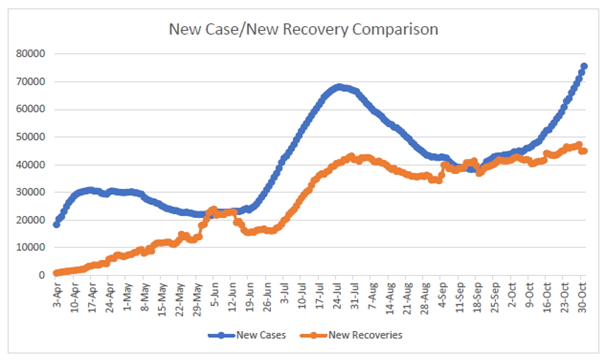 Combined comparison
The following graph compares three key data points: 1) Total number of reported cases; 2) General penalty; and 3) Total active. DIFFERENT from previous graphs, this chart does NOT use the 14-day moving average – these are graphs of actual daily numbers.
The blue line is the total number of reported cases; gray tracks active cases; and orange indicates recovery.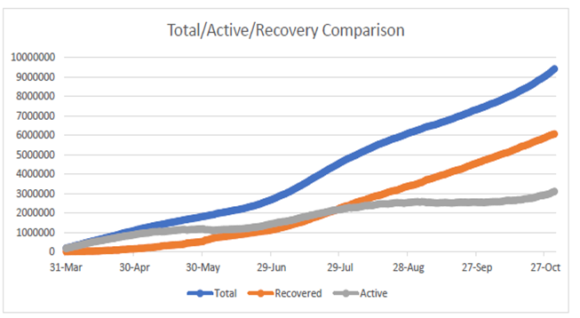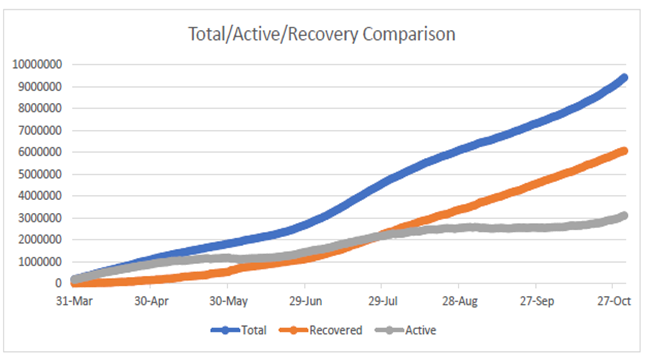 Percentage of total mortality in the United States
According to WorldOMeter, COVID affected 216 countries and territories – indeed worldwide. The United States accounts for approximately 4.29% of the world's population. This chart tracks the percentage of deaths from COVID worldwide in the United States.
Like the previous comparison chart, this chart is NOT on a 14-day rental, it tracks the daily percentage from March 20 to October 31.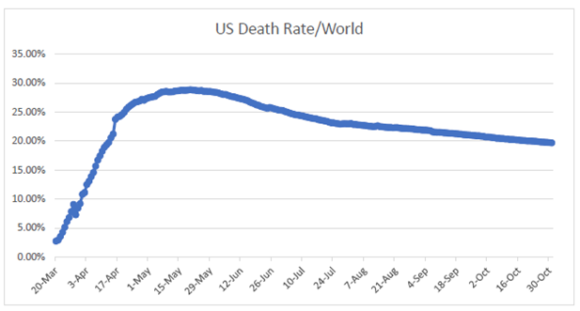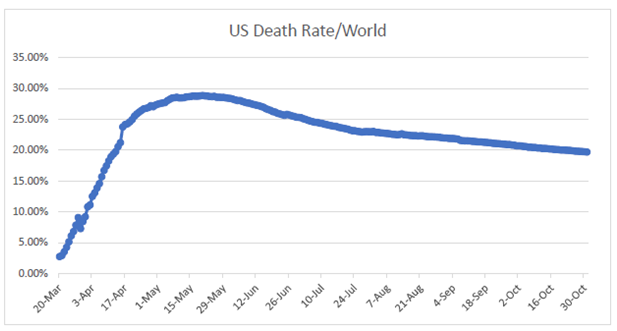 Monthly charts
The following are three charts that contain monthly information, rather than a 14-day moving average or even daily graphs of numbers. The following graphs compare new cases, new deaths, and new recovery in April-October.
Monthly new cases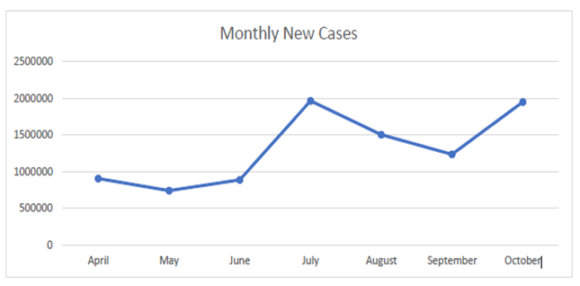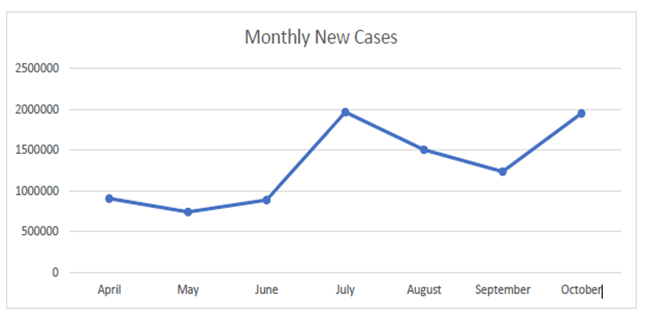 Monthly new deaths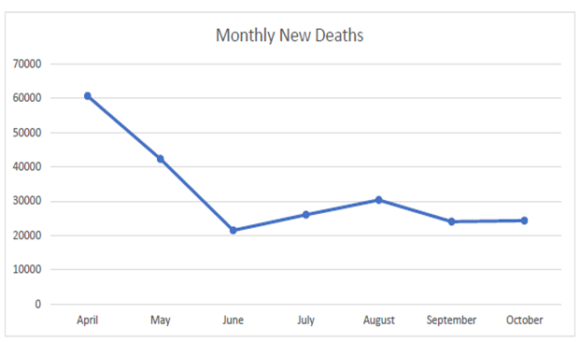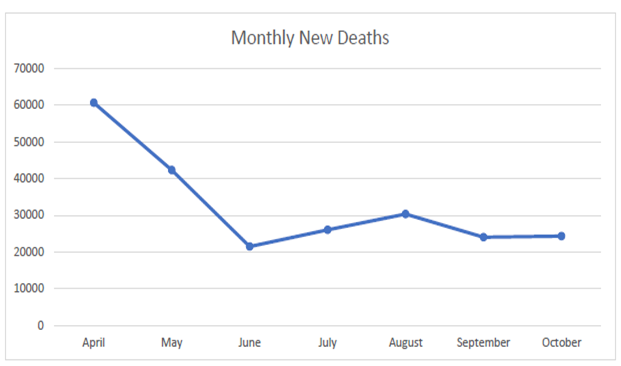 Monthly new refunds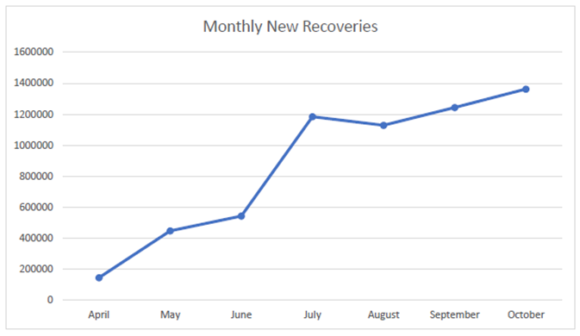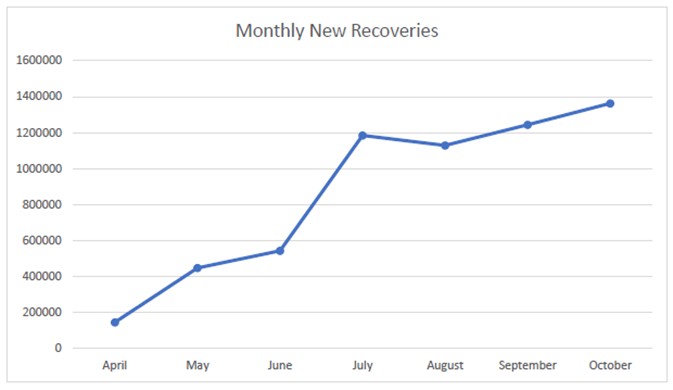 General comparison
This latest chart is essentially a tracking of COVID common numbers from March 21 to October 31. This chart compares all figures with the US population. Codes applied to the color:
Dark blue: The population of the United States
Red / orange: total number of reported cases
Yellow: General recovery
Gray: active cases
Light blue: Total deaths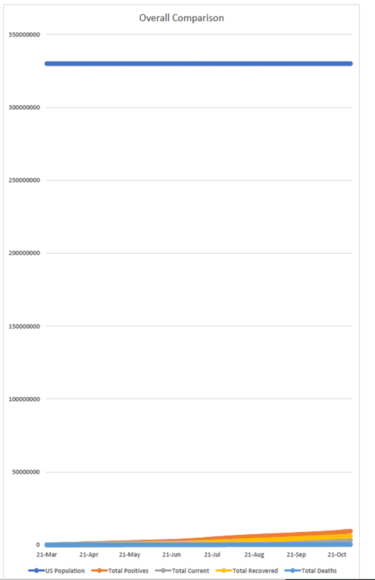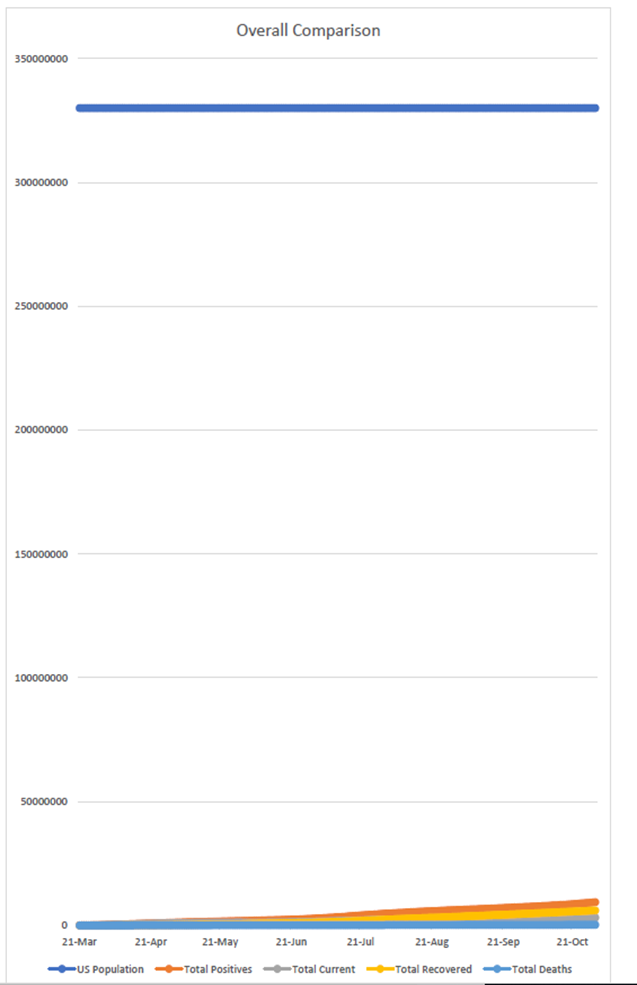 The most important insurance news in your inbox every business day.
Get a reliable insurance industry newsletter